What is Project Management Software?
Teams have to handle several tasks at the same time, so relying on human memory to keep everyone organized is impossible. And trying to organize a group of people over email is only going to lead to disaster. Completing projects by a certain deadline and without blowing the budget, teams need to set deadlines, share documents, and write down information. Members of the team need to stay in communication with each other. When organizations start to get serious about managing their projects, it's time to invest in project management software.
Online project management systems are ideal for individuals working on projects and team collaborative efforts. These online systems create real-time workspaces where outside partners and team members can monitor each detail that brings projects to completion. They provide an overview of every project in progress as well as details about the daily tasks being done to help the projects progress.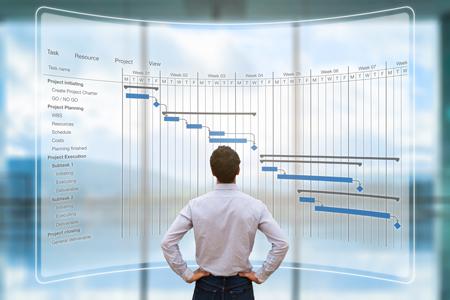 Most project management apps will include storage, allowing the team to upload the file directly from the workspace. The files are stored in a place where the entire team can access and discuss them. Project management solutions also give users the option to upload the file to online storage services like Google Drive, Dropbox, Box, and OneDrive, letting team members connect or upload files to the data management system that are located in storage systems that are already in use.
Free Project Management Tools
Project Management Software
Odoo
Suite of open-source business apps written in Python
OpenProject
Collaborative project management
MyCollab
Project Management, CRM and Document Management
Taiga
Web-based tool for agile project management
Redmine
Flexible application written using the Ruby on Rails framework
ProjectLibre
Standalone replacement for Microsoft Project
GanttProject
Graphical Java program for editing Gantt charts
eGroupWare
Enterprise ready web-based groupware suite with project management
dotProject
Web-based, multi-user, multi-language project management application
Taskjuggler
Modern and powerful open source project management tool
Planner
The GNOME project management tool
Libreplan
Project planning, monitoring and control
There are free versions of project management software available, but these often have limited capabilities. The main limitation to using this free software is that organizations are limited to managing one or two projects. Also, the free versions of project management software may block certain features, or limit the amount of storage space.
Most project management apps will offer a two-week, at least, free trial. Once the trial ends, there's no longer a free tier of service. However, the services that offer free trials do require paying a fee once the trial is over.
It is useful to try free software while businesses decide whether or not to upgrade the services. However, most businesses will want features and storage capacity that is available with paid accounts. Businesses should try out products for more than a few weeks to determine which software works best for the business and its teams.
Which project management systems have a free version of their software? Teamwork Projects, Zoho Projects, ProofHub, Volerro, and Wrike all offer free versions. As previously stated, the free versions are limited to managing one or two projects. Wrike is the exception. Wrike limits the number of users to five, it does not give users proofing or approval tools, and 2GB of storage space.
Collaborative Software
Even though it seems like project management software and collaborative software may seem like they are the same thing, they are different. Project management apps are used to collaborate. However, project management software tends to be more specific.
Collaborative Software has many different services and apps that have features like video conferencing that lets two people work on a document simultaneously.
Currently, project management services have collaborative tools and roll communication incorporated into the software. These services also let businesses connect collaboration apps that the team may use services like Google Docs and Slack.
Whether the business uses communications tools that are available with the project management application, or an outside one, the idea is for the team to have a centralized workspace. Having one workspace allows the team to get access to necessary assets, notes from other team members, prioritized to-do list, a calendar to list milestones and deadlines, a place to pose questions, and a resource for answers. A few project management apps have features that allow billing and expense tools.
SKU
Project Management Hosting